Why You Should Work For Imminent!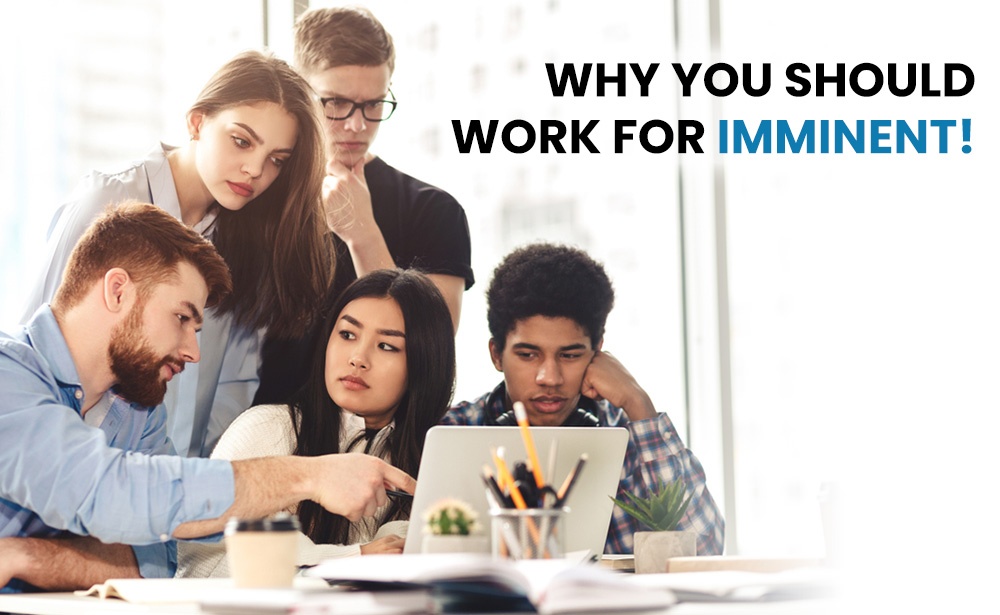 Marketing is a rewarding career with plenty of perks, and the sky's the limit when it comes to money. It's no wonder that there is a long queue of creative thinkers wanting to jump on board. However, with so many marketing companies operating in each major city, finding one that provides lucrative opportunities can be challenging.
At Imminent, we are confident about the opportunities we provide and will not shy away from giving you references. Besides, we will be happy to tell you why we are a top employer in the marketing industry.
We have been in the marketing industry for many years and have numerous happy employees. If you're looking to join a marketing firm, here are a few reasons why we stand out from the rest.
Personal and professional development
We spend long hours onboarding new recruits with holistic training. We go over their progress, and pinpoint strengths and weaknesses, so we can develop them as individuals. We also cover topics like time and money management as we want them to go on to become industry trailblazers.
Fun team environment
It sounds so cliche, but we've had many people in their first few weeks tell us, "I know everyone says they work together as a team, but you guys REALLY work together as a team!"
It makes us beam with pride as we strive to create an open-minded culture where our leaders are empowered to delegate.
We also promote 100% from within, making our management compassionate, having once walked into the candidates' shoes. In addition, to encourage bonding, we have team nights every few weeks where we go out and do something exciting.
Fast-track growth opportunities
We tailor our training to an individual's learning curve, as we recognize that smart people get bored if they're not stimulated by the next task quickly. We consider people that want to get challenged regularly to be ideal candidates.
We recognize that it's OUR responsibility to keep motivating these vibrant personalities. So we meet regularly with them to ensure that as soon as one skill set is learned, we cross it off, and we're on to the next task.
Paid travel
We love to travel and have many clients that like us to work on location. So, if someone is open to travel, we expose them to more conferences and allow them to represent us at client meetings. We pay for travel time, all expenses, and have a meal per diem, as we want our team to have the best experience.
Employees can be themselves
While we're here to mentor our employees in personal development, we don't want them ever to be someone they're not. Therefore, we are proud to celebrate the diverse backgrounds, varying personality types, and different socioeconomic groups that make up our team. Since this is not a one-size-fits-all company, we are committed to hiring talented people from all walks of life.
Thank you for taking the time to get to know us better. If you are looking for a sales and marketing opportunity and want to receive management training from us, click here to apply. As a leading marketing firm in Illinois, we ensure that we exceed expectations.
We offer entry-level jobs across Bloomingdale, Bolingbrook, Chicago, Glenview, Lake in the Hills, Lake Zurich, Melrose Park, Merrillville, and Mettawa. We also cover Mount Prospect, Naperville, Niles, North Riverside, Oak Brook, Orland Park, St. Charles, and Schaumburg.
Our services include marketing, brand management, customer relations, and public relations. We serve clients in the health and wellness, beauty, home, and automotive industries.
To learn more about the services we offer at Imminent, please click here. If you have any questions about how we can help you, get in touch with us by clicking here.
---
---