Four Common Mistakes Entry-Level Employees Make And How To Avoid Them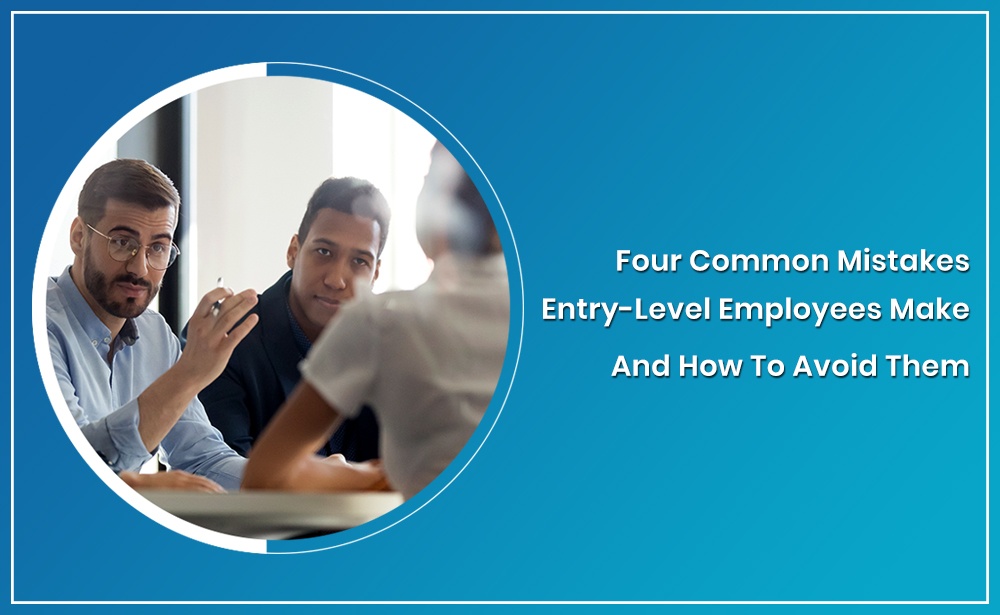 It's an exciting time when you get your first job because it represents the start of your professional career. However, even though it may appear that the hard part is finished after you receive your offer letter, it's critical not to overlook workplace culture and protocol.
Every office has its own set of working norms and procedures. As a new employee, the most important thing you can do for yourself is to observe and adapt to this routine.
So, to help you get a successful start with your new job, Imminent has outlined four of the most common mistakes entry-level employees make and how to avoid them.
1. Internalize
This is a common mistake because usually, when it's made, it's made with good intentions. What we're talking about is the decision to not communicate feedback on how training is going, or what you need help on, what your thoughts are about the company meeting this morning, etc. These actions or lack thereof are usually resulting from self-sacrificial feelings like, "I'm new, no one wants to hear from me yet, I'll just keep listening," or, "They're/she's/he's probably really busy, I don't want to be a bother." These don't serve an individual or a mentor who is trying to create a training program that is really tailored to the person experiencing it! We definitely want to work with a person who is very communicative out of the gates and fights against the urge to internalize.
2. Problem solve on their own
There's a theme so far here about communication, obviously. We definitely have a team that is very communicative and want to make sure we hire for a culture fit that matches that! But we put this separate here from #1 because even if someone asks a lot of questions in general, sometimes asking for help specifically can be tough for people. There are environments that sometimes we were in previously that championed more of a figure-it-out-on-your-own-and-that's-better mentality, depending on where you previously worked or went to school, and we really want to reprogram someone's mentality here. Especially when you have a supportive team in the first place, of course, asking for help is the FASTER way to get things done. It is also 100% NOT a sign of weakness. It shows a lot of student mentality, willingness to learn, and better ability to troubleshoot than solving something on your own. And did we mention that it's faster!
3. Tying emotion to feedback
Oh my gosh, is this relatable! Even if you are a great student, typically, we all prefer compliments to criticism. But someone who truly wants to get better actually LOOKS for criticism. Of course, they're probably looking for this from trusted sources with whom they can connect. But someone who has an unbelievable student mentality regularly sits down with coaches and asks, "What do you think I need to do to get better?" or "How can I get better at XYZ skill set?" And unfortunately, this type of student mentality is pretty rare!
4. Focus on uncontrollables
There's a saying that life is 10% what happens to you and 90% how you respond. In fact, this type of thought process is prevalent in almost every business book we've read for our book club, so it's highly promulgated amongst virtually all successful people. But even still, sometimes we focus on uncontrollables a lot - the location, the day of the week, the weather outside, the delivery schedule, the client, the campaign, the list goes on. Someone who focuses on what they can control, that is, their response to what is happening around them, will be very successful in everything they do.
To avoid these and other mistakes, reach out to the experts at Imminent. As a leading marketing firm in Lombard, Illinois, we provide fantastic career prospects. We have a presence across Bloomingdale, Bolingbrook, Chicago, Glenview, Lake in the Hills, Lake Zurich, Melrose Park, Merrillville, Mettawa, Mount Prospect, Naperville, Niles, North Riverside, Oak Brook, Orland Park, St. Charles, Schaumburg, and the surrounding areas.
For more information about what we do, please click here. If you have any questions about the marketing industry, we'd love to hear from you. Please contact us here.
---
---